Savatthi Tirth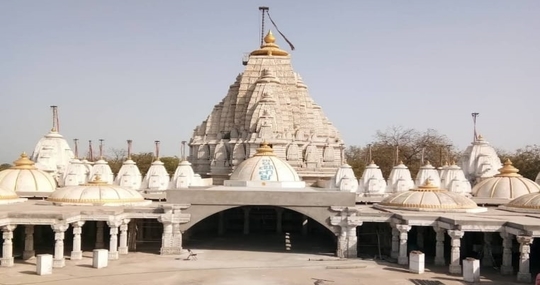 The Mulnayak of the Savatthi tirth is Shri Sambhavanath Bhagwan. At this tirth, He assumes the Padmasan Posture, also known as the lotus posture. Shri Sambhavanath Bhagwan's idol is nearly 126 centimeters high, or over 4 feet tall. This tirth is 4 km from the village Bavla and 39 km from Ahmedabad (off the Ahmedabad-Palitana Highway).  The temple is 200ft long and 108ft high.

Savatthi tirth was constructed from years 2046 to 2048 of the Vikram Era. The temple has 1,111 pillars and 84 idols. Some call Savatthi tirth's temple a "mini-Ranakpur" because of its similarity to the original Ranakpur Tirth. A dream assisted Jinchandar Vijayji Maharajsaheb to  remember the saying, "I want to be God, I want to make everyone God." Inspired, he carried on and made 52 of the total 84 temples at Savatthi tirth.

On the midnight of 18th November 1981, Goddess Padmavati appeared in the dream seen by Pujya Gurudev Shri Jinchandra Vijayji Maharajsaheb(right now Pujya Acharyadev Shri) and inspired him to create pilgrimage of 52 Jinalayas. At midnight of 3rd January 1982, Goddess Padmavati inspired Bavla Village's Shri Haribhai Chaganbhai Bharvad to donate land. After the dream came, he went to Palitana with Gujarat State Revenue Tax Minister Shri Narendrasinhaji Jhala and other well-known persons to meet with Acharyashree.  Shri Haribhai explained the dream and showed readiness to donate the land.  At the same time grandsons of Shri Gokalbhai Ranchodbhai Bharvad, Jivanbhai Gokalbhai Bharvad, Arjanbhai Gokalbhai Bharvad and Manubhai Gokalbhai Bharvad donated the adjacent plot.  The tirth is located on 18 acres of donated land. 

In this sacred place, there are six large temples :- The first temple houses the idols of the awe-inspiring Padmavatimata, Ambamata and Mahalaxmimata, the second temple houses the idol of Bhagawan Shantinath, the third temple houses the idol of Shankheshvar Parshvanath, the fourth temple houses the idol of Bhagawan Adishwar, the fifth temple houses the idol of Bhagwan Mahavir Swami and the sixth temple houses the idols of Gautam Swami, Sudharma Swami and Kalikalasarvajna Hemchandracharya. In front of this temple, there is Samadhi mandir of Sadhaviji Prashamprabhashriji.


                    
See 24 Bhav Tirth