Matar Tirth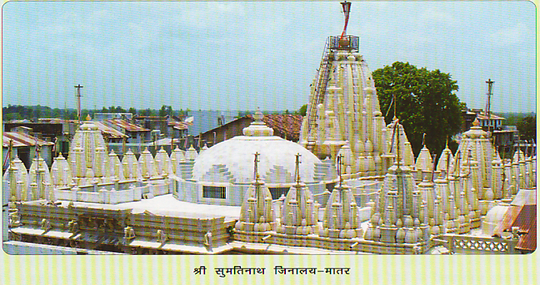 The Matar tirth is in between Ahmedabad and Baroda in the village of Maatar. The mulnayak is Bhagwan Sumatinath.

The idol of Sri Sumatinath is about 76 centimeters tall and white. Like many other idols, this idol is also in Padmasan posture. The idol was originally found in the open ground of the village Sihunj near Mahudha town in the Kheda district.  According to the writing found on the idol, the first temple in which the idol was installed happened on a Sunday on Vaishak Sud 7 in the Vikram Year 1523 under the watchful eyes of Shri Laxmi Sagarsurishwarji.  The idol was brought from Sihunj  and the installation in Maatar was done on Jeth Sud 3 in Vikram Year 1854.  In Vikram Year 1977, sashansamrat Shri Nemisurishwarji  oversaw a renovation in which Shri Jamnabhai Bhagubhai took a great role in.  A renovation was done under the guidance of Acharya Vijayasiddhisurishvarji in Maatar on Vaisakh Sudh 5 in Vikram Year 2007. 

There are many stories of miraculous things happening with this idol.  While the idol was being moved from Sihunj to Matar, there was a heavy flood due to the rains where the rivers Vatrak and Shedhi meet. The devotees couldn't cross the river due to flooding however, the cart driver saw only sand instead of water and he continued to cross the river.  All the devotees followed him and started chanting "True God" or "Sacha Bhagwan".  Because of this miracle, the idol has been known as "Sacha Dev Shri Sumatinath".   On many occasions the nearby villagers have reported to hear dancing going on at night. 

Matar is a beautiful tirth which everyone should visit.  


                    
See 24 Bhav Tirth