Mahudi Tirth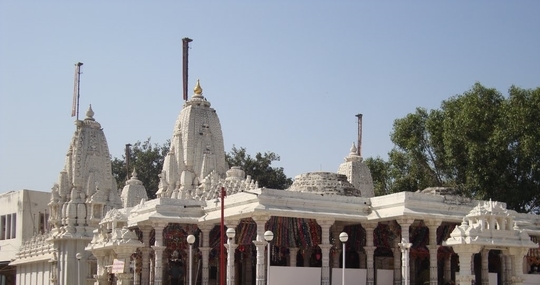 In ancient times, this place was known as Madhumati. The idols and artistic remains found from the hollow of the earth show that this place is about 2000 years old. The writings in the Brahmi script also show its age.Mulnayak: 53 centimeters high, white-colored idol of Bhagawan Padmaprabha in the Padmasana posture.

Tirth is located in the village of Mahudi.

Mahudi Jain Temple was made under guidance of Buddhisagarsuriji.  Vadilal Kalidas Vora donated land to make this temple. He along with Punamchand Lallubhai Shah, Kankkuchand Narsidas Mehta and Himmatlal Hukamchand Mehta became trustees of a trust established to manage the temple. 

Padmaprabha Swami is the 6th Tirthankar of this Avsarpani Kaal. He was the son of King Shridhar and Queen Sushima.  He was born in the town of Kaushambi. He was named Padmaprabhu because in the initial stages of the pregnancy, his mother always wanted to sleep on a lotus. He had 107 gandhars and had only 3 bhavs after Samyak Darshan before he attained Moksh. The topic of his first sermon was Sansar Bhavna. He compared sansar with ocean and explained that the way the amount of water in an ocean is unaccountable, the same way, the number of times we take birth and death is also unaccountable. He also said that our soul keeps on changing its body according to its deeds and in this process it has to bear lot of pain and hardship. Sometimes a soul may take birth as a king, and sometimes it takes birth as an animal. It all depends on what kind of karma one has done and how the life has been lived. He also said that a soul has to suffer everywhere, no matter where it is, even Dev Gati is not free from unhappiness. Hence by explaining the weirdness of Sansar, in which we are in a constant cycle of birth and death, Bhagwan showed the path of Diksha and preached the importance of Diksha in achieving our ultimate goal of Moksh.

Also, installed here is an ancient idol of Ghantakarna Mahavir by Acharyadev Buddhisagarsurisvarji in the year 1980 of the Vikram era. This idol of Ghantakarna Mahavir is very miraculous. Thousands of pilgrims with faith and devotion come here to fulfill their desires. Every year, on Kali Chaudas, the ceremony of charitable offering is celebrated in the Jain way in the temple of Ghankakarna Mahavir where the annual function is also celebrated. The splendid temple of Ghantakarna with the 24 devkulikas is at present under renovation. In his previous birth, Ghantakarna Mahavirdev was a Kshatriya king named Tungabhadra. He protected religious people, all caste and virtuous women, and unmarried girls from robbers. He used a bow and arrow for the protection therefore, his idol is depicted with a bow and an arrow. Ghantakarna Mahavir always helps those who have faith in him. In his previous birth, he was very fond Sukhadi so there is a custom of offering Sukhadi to him which can only be consumed there.

Other Temples & Information:  Mahudi is at a distance of 1 and ½ kilometers from the Sabarmati River.  Besides this temple and the splendid temple of Ghantakarna Mahavir, there is also a Gurumandir of Buddhisagarsurishvarji.  Many artistic idols or ancient remains are seen there. The artistic and sculptural models in the Kotyark temple, give an idea of the antiquity of this place. The 130 cms. high idol of Bhagawan Shantinath in the Padmasama posture is made of five metals and it has radium eyes. It is very miraculous and wonderfuland is also known as an idol of Keshariyaji. In the temple on the hill, there is a 106 cms. high, white-colored, delightful idol of Bhagawan Ajitnath in the Kayotsarga posture. At such lonely places, Buddhisagarsuyrishvarji did his meditation.


                    
See 24 Bhav Tirth