Mandav Gadh Tirth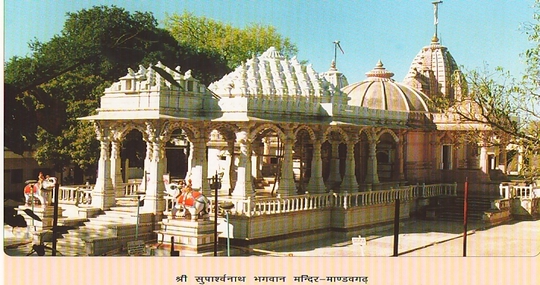 Shri Mandavagadh Tirth is dedicated to our seventh Tirthankar Suparshvanath Bhagwan. Shri Mandavagadh Tirth is located in a big fort named Mandu on a high peak in the Vindhyachal Mountain in Madhya Pradesh.
 
The idol of Suparshvanath can be dated back to the fourteenth century. The color of the idol is white and is approximately ninety-two centimeters tall and it is in Padmasana posture. The temple has been magnificently decorated with intricate designs and has a unique architectural structure. There were once 700 temples at this place, many paushadshalas and was once populated by six lakh Jains.

Many Jain warriors, Mantri's & Shravaks have passed here during 18th & 22nd centuries. Pethad Shah, decorated the whole city on the occasion of a welcome festival in honor of Dharmaghoshasurishvarji for his arrival. Householder Zanzan Shah took many pilgrimers to Mt. Shatrunjay from this city at the expense of crores of rupess.  Sangram Soni of this place wrote the book, Buddhisagar and got the Agams written in letters of gold for which he was highly honored in the royal court of King Mohammed Khilji.. From every family a gold mohur and a brick were given to a man who newly came to settle here. People of those days had such noble feelings towards co-religionists.

There is another ancient temple of Bhagawan Shantinath in the compound of this temple.

Mandav is the present day Mandu. It is a very ancient place, famous all over India. Remains of art are found here even today. Even in Chaityavandan, there is a mention of Mandavgadh. 


                    
Shared Nakaro Murtibharai Winners
| | |
| --- | --- |
| Bharai Name in Patrika | Divyang & Sonal Shah |
| Bharai Name in Patrika | Jaykumar & Nila Shah |
| Carry Bhagwaan in Varghodo | Mihir & Ami Shah |
| Carry Bhagwaan in Varghodo | Mukesh & Shobhana Somani |
| Bhagwaan Pokhna | Vasant & Ela Shah |
| Bhagwaan Pokhna | Nitin & Neeta Malde |
| First 3 Abhishek | Ruchir & Kinjal Shah |
| First 3 Abhishek | Sheetal & Sweta Daftary |
| Tanchno Marvanu | Pankit & Seema Gandhi |
| Tanchno Marvanu | Vinay & Gira Shah |
Shared Nakaro Murtibharai Labharthis
Akshay & Kashmira Shah
Arvind & Nayna Bhandari
Ashok & Rekha Shah
Bhadri & Leena Lodaya
Bhavik & Connie Shah (Mukesh & Saroj Shah)
Divyang & Sonal Shah
Dr. Lesha & Akash Shah
Gautam & Panna Shah
Hareshbhai & Ranjanben Shah
Harshad & Bharati Shah
Hemant & Hansa Shah
Hemant & Ranjan Shah
Himanshu & Hina Shah
Jayant & Rupa Shah for Taraben Kantilal Shah
Jayesh & Bina Beed
Jaykumar & Nila Shah
Jitendra & Kalpana Shah
Jitendra & Vilas Shah
Kartik & Jyotsana Zaveri
Ketan & Jyotika Shah
Kirit & Varsha Shah (Parsippany)
Kishor & Nimita Shah
Kishore & Bharati Sanghvi
Kumarpal Surekha Minal Ripal & Purvi Shah
Manhar & Bharati Bhavsar
Mihir & Ami Shah
Mukesh & Kailas Shah
Mukesh & Shobhana Somani
Narendra & Bharti Shah
Navin & Manjula Shah
Nitin & Archana Shah
Nitin & Neeta Malde
Pankaj & Manisha Doshi
Pankaj & Uma Shah
Pankit & Seema Gandhi
Parag Bavishi & Nisha Jagmohan
Pradip Pratibha Amit Dimpal Jimit & Nirali Shah
Rajiv & Amita Shah
Rashmi & Darshana Shah
Rashmin Pallavi Smith & Romy Shah
Ruchir & Kinjal Shah
Shailesh & Sohini Trivedi
Sheetal & Sweta Daftary
Shrenik & Sonal Bavishi
Snehal & Dipali Shah
Tamboli Family
Tushar Ramanlal Shah (Tushar & Neela Shah)
Vasant & Ela Shah
Vimal & Jinal Shah
Vinay & Gira Shah
Vivan & Arham Doshi (Vishal & Sweta Doshi)
See 24 Bhav Tirth