Prabhash Patan Tirth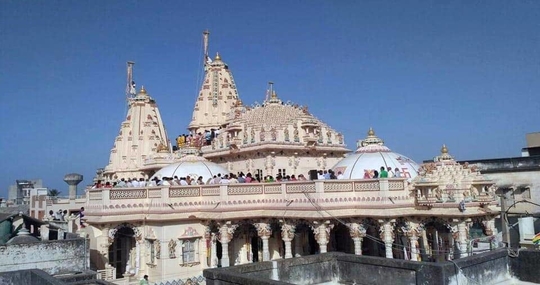 The main idol is Shri Chandraprabhu Bhagwan in Padmasan, or lotus posture. He is nearly 115 centimeters tall and white in color.  It is located in the center of Prabhaspatan, approximately 11/2 km away from the main Somnath temple.

This shrine is said to be made by Bharat Chakravarti who was the son of Adinath Bhagwan, our first Tirthankar of this time cycle. While he was leading a sangh, some great monks practising penance on the bank of the river Saraswati said that the holy land would be the place of samavasarana of Bhagwan Chandraprabhu.  Hearing this, Bharat settled a city there and built a temple of Bhagawan Chandraprabhu. In earlier millenniums, the shrine was known as Devpatan, Patan, Somnath, Prabhas, Chandraprabhas etc.

This ancient tirth is mentioned in 'Shatrunjaya Mahatmaya' composed by Shri Dharmeshwarsuriji in the year 370 of the Vikram era. At the time when Mlechchha kings invaded in the first century of the Vikram era, the idols of Ambikadevi etc. came here from the Vallabhipur temple through the air route. Under the instructions, of Kalikalasarvajna Hemchandracharya, Maharaj Kumarpal built temples here. There are also documents showing that the festivals of Anjanashalaka and installation of idols were celebrated here five times under the auspicies of Shri Vijaysurishwarji before the year 1666 of the Vikram era. The temple was again renovated in the years 1876 and 2008 of the Vikram era. The idol was installed under the auspices of Shri Chandrasagarsuriji. 

There are seven other temples nearby and in town there is one more. In the basement of this temple there is an Agam Mandir where all Agam written on copper plate are kept.In the temples nearby, there are idols of Dokaria Parshvanath and Sri Mallinath Bhagwan which are ancient, beautiful and miracle working.

The sight of this temple located on the banks of river Saraswati in the town on a sea-shore is extremely pleasing. The temple art is mind captivating. The large seating and worshipping hall flanked by nine sanctums is superb and without parallel. The shrine being an ancient one, ancient art is visible even in local mosques. From several artistic creations appearing on the walls, sides and interior of mosques, it becomes evident that old temples may have been converted into mosques.


                    
See 24 Bhav Tirth