Sinhpuri Tirth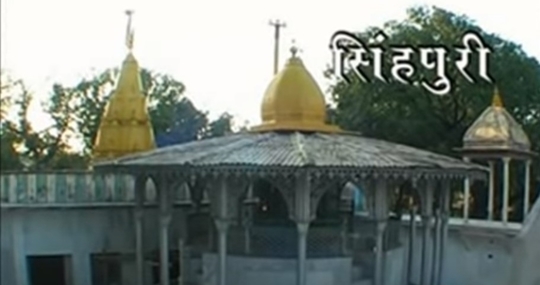 Sri Shreyansnath Bhagwan  idol at this Tirth is in white color, seated in lotus posture or padmasan posture and is 30cm in high.  Sinhpurit is known all over the world as Sarnath which maybe a twist on the word Shreyansnath.  At this place, there is an eight cornered ancient stupa (solid dome) 103 feet high and believed to be 2200 years old and was constructed by a king called Priyadarshini. According to Jain traditions, it is king Samprati, grandson of Emperor Ashok, who got this stupa built in commemoration of Bhagwan Sri Shreyanshnath's four Kalnayaks at this place.

The story of Shri Shreyansnath begins in the pre-historic period when the soul of Nalinigulma having completed his two previous incarnations entered the womb of Vishnudevi, the wife of king Vishnu who ruled this area, Vishnudevi delivered a son with the sign of a rhino and was named Shreyanshkumar.

On attaining youth, Shreyanshkumar was married and crowned. Several years later he decided to take Diksha in the garden of one thousand mango trees after giving away in charity all his wealth in the course of one year before that. Then wandering as a monk for one month, he returned to the same garden and commenced intense and deep meditation under a "Tanduka" tree which finally resulted in the total destruction of his four Ghati Karmas and his attainment of Keval Gnan on Maha Vad 3.  In this way this place had the good fortune where four of the  Kalnayaks, Chyvan, Janm, Diksha and Keval Gnan of Bhagwan Sri Sheyanshnath took place.

This place was under the control of Mohammed Gazni in the 11th Century.Thereafter Rani Kumardevi wife of Govindchandra, the king of Kanoj had got built here a "Dharmachakra Jin-Vihar" (a residential resort for Jain travelers in glory of Jain religion). The temples here were badly damaged by Kutub-ud-din, the commander of the army of Shah-bud-din Ghori in Vikram year 1194 and there is reference that only two stupas were saved in this pillage and destruction. At present, there is only one Swetambar temple, one Digambar temple, one stupa and one Buddha temple.

This place is holy as it has the good luck of having four Kalnayaks of the present 11th Tirthankar Sri Shreyanshnath Bhagwan. The stupa is magnificient, ancient and unusual and beyond description. According to Buddha traditions, Lord Buddha gave his first sermon at this place to his five disciples.


                    
Shared Nakaro Murtibharai Winners
| | |
| --- | --- |
| Bharai Name in Patrika | Saumil & Suchita Shah |
| Bharai Name in Patrika | Jagrut & Heena Shah |
| Carry Bhagwaan in Varghodo | Bid Parivar |
| Carry Bhagwaan in Varghodo | Hasmukh & Pallavi Mehta |
| Bhagwaan Pokhna | Ashok & Rekha Shah |
| Bhagwaan Pokhna | Neil & Purvi Sanghvi |
| First 3 Abhishek | Kurmarpal & Chhaya Shah |
| First 3 Abhishek | Kartik & Jyotsana Zaveri |
| Tanchno Marvanu | Snehal & Dipali Shah |
| Tanchno Marvanu | Shrenik & Amruta Shah |
Shared Nakaro Murtibharai Labharthis
Ajit & Nayna Jagmohan
Akshay & Kashmira Shah
Arvind & Nayna Bhandari
Ashok & Rekha Shah
Atul Javnika Ketul & Kunal Kothari
Bhadri & Leena Lodaya
Bid Parivar
Deven & Kinjal Gandhi
Dikshit & Rupal Shah
Dilip & Jyoti Mehta
Family Tamboli
Gautam & Panna Shah
Gunvantiben Thakorbhai Shah
Harshad & Bharti Shah
Hasmukh & Pallavi Mehta
Himanshu & Hina Shah
Jagrut & Heena Shah
Jay & Nila Shah
Jayesh & Nila Shah
Jitendra & Kalpana Shah
Kanti & Kundan Mehta
Kartik & Jyotsana Jhaveri
Kartik & Jyotsana Zaveri
Kirit & Varsha Shah (Parsippany)
Kirti & Sudha Doshi
Kurmarpal & Chhaya Shah
Manan Dilipbhai Shah
Mayank & Bhavna Shah
Milan & Keny Jhaveri
Neil & Purvi Sanghvi
Niranjan & Asha Vadi
Paras & Hetal Sheth
Paurav & Heenal Vora
Pradeep & Kajal Jain
Rama Shah
Ramesh & Rekhaben Shah
Rameshchandra & Ranjan Shah
Ruchir & Kinjal Shah
Sagar Rashmikant Shah
Saumil & Rupal Shah
Saumil & Suchita Shah
Seena & Shaam Beed
Shailesh & Sohini Trivedi
Sheetal & Sweta Daftary
Shirish & Kanan Patrawalla
Shrenik & Amruta Shah
Snehal & Dipali Shah
Vasant & Ela Shah
Vijay & Nilsa Shah
Vimal & Jinal Shah
Vinay & Gira Shah
See 24 Bhav Tirth