Champapuri Tirth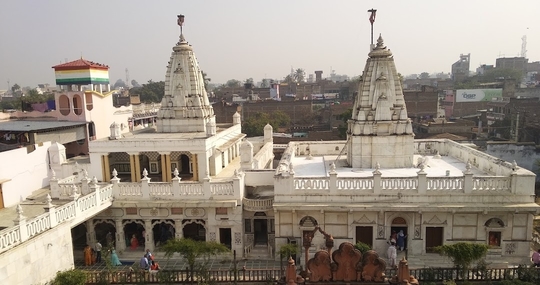 The tirth of Champapuri has Mulnayak Shri Vasupujya Swami Bhagawan.The Reddish diamond colored Padmasana idol of  Bhagwan Shri Vasupoojya seated on the principal altar of main temple is quite attractive and beautiful. 

This is the only tirtha where a tirthankar has had all five of his/her kalyanaks. The tirthankar who had all five of his mulyanaks at Champapuri is Shree Vasupuja Swami. 

This temple being symbolic of 'Panch Kalyanaka' is adorned with 5 altar(gabharas) magnificent spire and 2 columns of fame. It is said that there were 4 'Columns of Fame (Keerti Stambha)' which existed in four corners of the campus of the temple. Later on the 2 out of 4 were destroyed in the earthquake of year 1934 & repair (Jirnoddhar) of other 2 columns was done in 1938. The 'Columns of Fame' are about 2200 years old. 

The red colored Padmasana idol of Bhagwan Vasupujya Swami present in centre of main altar is quite attractive and miraculous. The color of this idol is comparable to the actual complexion of Bhagwan Vasupoojya. Another idol of Bhagwan Vasupoojya is made of 'Ashtadhatu' (Alloy of eight metals) & the ancient foot images of Bhagwan Vasupujya are also installed in this altar(gabhara). The principal deity of Bhagwan Vasupujya is also constructed along with other artistic idols which are present around the main altar. There is 'Ashta-Pratiharya' created in an artful specimen of glass present in this temple that is marvelous. 

The entrance gate of this temple is made in the style of Hawamahal of Jaipur (the Pink City), is great, attractive & artistic. 

This place is famous because of its relation to followings: 

- "The three Chaturmasa period of Bhagwan Mahaveer Swami during his Dikshakal, Religious propagation centre of Anga-Banga-Magadh-Vaishali; 

- Test of modesty of Sati Subhadra and Anantmati, Aahardan to Bhagwan Mahaveer Swami by Sati Chandan Bala". 

- Champapur is also related to great stories of 'origin of Harivansha, Shripal-Mainasundari, Shri Dharma Ghosh Muni, King Karna of Mahabharata, King Mudrak and great architect Vishvakarma'. 
 
- Champapur has assumed more importance because of arrival of 'Samavsharan' of all 24 Teerthankaras. This place is Siddha Kshetra, as well as lot of miracles also happened here. 

- Mahavir Swami visited Champapuri Tirtha several times and his Samovasaran was also held there. 

- Great souls like Sri Sudarshan Sheth, Maharaja Sripal and Sati Chandanbala Sati Subhadra were birthed here.  
 


                    
See 24 Bhav Tirth