Masjid Bunder (Mumbai) Tirth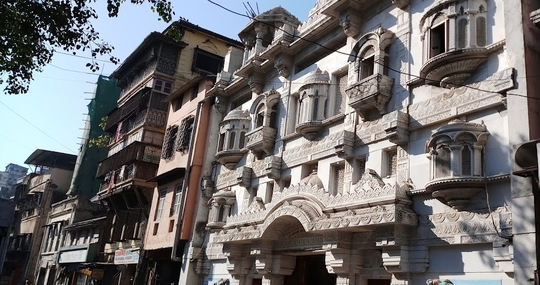 Presiding Deity and Location
Shree Anantnath Bhagwan 
Kharek Bazar, Masjid Bandar, Mumbai

Antiquity and Salient Features
The jinalay is older than 175 years. The Mulnayak Daity shree Anantnath Bhagwan's pratimaji is of red color and is about 2600 years old which was originally created by Samprati Maharaja. 
The original Jinalay was constructed in 1833 and was renovated starting in 1889 and completing in 1912. 
Even as the market area of Kharek Bazar in Masjid Bandar is crowded with people and noise, the inside of jinalay offers an entirely opposite environment of peace and tranquility. Due to renovation and regular upkeep, the dehrasar looks grand from outside and peaceful and pious from inside. 
One can't help but say "Shree Anantnath Bhagwan Ni Jay Ho!"

During the blast of 1944, the Masjid Bandar overall had seen a lot of damage, but the area of Jinalay and its surrounding was absolutely unaffected. 

Next to the Mulnayak are Shree Parshvanath and Shree Mahavirswami. There are 21 other deities also , thus giving the jinalay a new identity as 24 Jinalay. 
On the 2nd floor of Jinalay, there is a big and beautiful set of two bells. These bells are 630 Kilograms each which includes 86 Kg of the bell, 85 Kg of stand, 99 Kg Peacock Pair and 360 Kg of the base stone. 

Behind the main Garbhgruh, is the Deity of Kachchhi Dasha Oswal Kuldevi Shree Mahakali Mata. Also kept here is the Akhand Jyoti (Notstop Burning Diya) that was brought from Pavagadh. 

Amenities For Jain Pilgrims
The premices houses the office of the Kachchhi Mahajan and also operates Mahila Grih Udhyog. 
It also conducts programs for Senior Citizens. 
The jinalay has the facility of elevator. 

Managed By : 
Kachchhi Dasha Oswal Jain Sangh.



                    
Shared Nakaro Murtibharai Winners
| | |
| --- | --- |
| Bharai Name in Patrika | Ashwinbhai & Kokila Patel |
| Bharai Name in Patrika | Kirit & Sudha Shah |
| Carry Bhagwaan in Varghodo | Ketan & Neha Shah |
| Carry Bhagwaan in Varghodo | Tamboli Family |
| Bhagwaan Pokhna | Vasant & Ela Shah |
| Bhagwaan Pokhna | Kantilal Ramniklal Shah & (Jagdish & Daksha Shah) |
| First 3 Abhishek | Parin & Shilpa Shah |
| First 3 Abhishek | Bharat & Raju (Vasuben Rajul Roshni & Vishal) Shah |
| Tanchno Marvanu | Naishadh Shah & Maulee Vadi |
| Tanchno Marvanu | Kartik & Jyotsana Zaveri |
Shared Nakaro Murtibharai Labharthis
Akshobh & Kalpana Gandhi
Amish Jhaveri
Anushree Kishor Doshi (Kishor & Mayurika Doshi)
Arvind & Nayna Bhandari
Ashok & Mita - Ankil & Janki Shah
Ashok & Rekha Shah
Ashwinbhai & Kokila Patel
Babubhai & Shataben Patel
Bhadri & Leena Lodaya
Bharat & Raju (Vasuben Rajul Roshni & Vishal) Shah
Bhavik & Conie Shah (Mukesh & Saroj Shah)
Devang & Jignasha Mody
Dr. Amit Prakash Daftari Dr
Gautam & Panna Shah
Harshad & Bharti Shah
Hemang & Binita Kapadia
Jay & Nila Shah
Kantilal Ramniklal Shah & (Jagdish & Daksha Shah)
Kartik & Jyotsana Zaveri
Kejal & Sunita Sanghvi
Ketan & Neha Shah
Kiran & Bharti Sangoi
Kirit & Sudha Shah
Kirit & Varshah Shah (Parsippany)
Mahesh & Sangita Shah
Manit & Sonit (Nimish Vora & Mita Mehta
Mukesh & Jayshree Mehta
Naishadh Shah & Maulee Vadi
Nirav Rashmikant Shah (Rashmi & Anjana Shah)
Nitin & Neeta Malde
Parin & Shilpa Shah
Paurav & Heenal Vora
Prakash & Amita Daftari
Pramod & Sejal Shah
Purnesh Dolly & Manan Jain
Ranjana Mahesh Shah
Ruchir & Kinjal Shah
Sanjay & Bhavini Patel
Shaam & Seena Beed
Shailesh & Sohini Trivedi
Sheetal & Sweta Daftary
Snehal & Dipali Shah
Sva Ramiben Bhulabhai Bhakta
Tamboli Family
Tushar & Darshana Shah
Tushar & Zarna Shah
Vasant & Ela Shah
Vasant & Mina Shah
Vikram & Rajshree Sheth
Vimal & Jinal Shah
Vinay & Gira Shah
See 24 Bhav Tirth