Hatheesing Ni Vadi (Ahmedabad) Tirth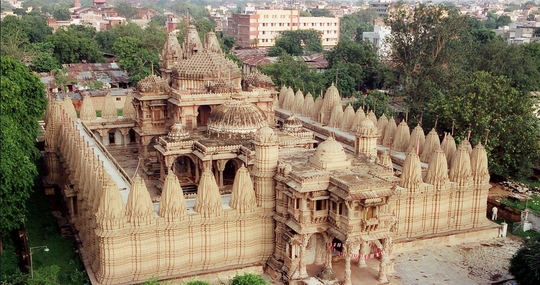 The tirth of Shri Dharmanatha bhagwan in Ahmedabad is also known as the Hutheesing Jain Temple and it is one of the most well-known tirths for Dharmanath. The initial construction of the temple began in 1848, in the state of Gujarat. The initial builder of the tirth was Sheth Hastisinh Kersarisinh, a wealthy merchant who resided in the city of Ahmedabad. When he passed away at the age of 49, his wife Shethani Harkunavar took over for the construction of the temple.

The overall gross cost of this construction is estimated to be around 8 lakh rupees or 11,072 dollars. Currently, the temple is undergoing renovations to restore the Tirtha back to its original state. A representation of Dharmanatha, the Mulnayaka of this tirth, is made from delicate marble, glass, and limestone and it resides in the main temple house, which is referred to as the "rainwater harvesting" structure. The main shrine of Dharmanath holds 11 major deities, 6 of which are in the lower structure of the tirtha and 5 of which are located in the Bay Sanctuary at the front of the temple. There are two stories in the main temple and it is surrounded by a courtyard In total there are 53 shrines to major and minor deities in this temple. The overall shape of this temple was inspired by the Manastambha, since the temple formation resembles a column.


                    
Shared Nakaro Murtibharai Winners
| | |
| --- | --- |
| Bharai Name in Patrika | Vasant & Ela Shah |
| Bharai Name in Patrika | Pradip & Pratibha - Kailash & Hemanti Shah |
| Carry Bhagwaan in Varghodo | Ramesh & Premila Shah |
| Carry Bhagwaan in Varghodo | Snehal & Meena Dalal |
| Bhagwaan Pokhna | Nirajnaj & Chakshu Shah |
| Bhagwaan Pokhna | Ravindra & Suhas Vora |
| First 3 Abhishek | Vinay & Gira Shah |
| First 3 Abhishek | Mihir & Reshma Badani |
| Tanchno Marvanu | Mahendra & Damayanti Bahvsar |
| Tanchno Marvanu | Harsukhlal & Vanitaben Lathia (Atul & Kalpana) |
Shared Nakaro Murtibharai Labharthis
Alpesh & Manisha Shah
Arvind & Nayna Bhandari
Ashok & Rekha Shah
Badal Jain
Bid Parivar
Chintan & Suhaani Dholakia
Dr. Namrata Shah
Ek Sadharmik Parivar
Gautam & Panna Shah
Hamir & Nina Vadi
Harshad & Bharti Shah
Harsukhlal & Vanitaben Lathia (Atul & Kalpana)
Hemant & Varsha Sanghvi
Himanshu & Hina Shah
Jatin & Jayshri Shah
Jay & Nila Shah
Jay & Yesha Patel
Jayant & Kundan Sheth
Jaymin & Sejal Jagmohan
Jayveer & Zalak Shah
Jeraldin & Zalak Sheth
Ketan & Sujata Jhaveri
Kiran & Dipti Mehta
Kirit & Varsha Shah (Parsippany)
Kirit Shah
Kishore & Bharati Sanghvi
Mahendra & Damayanti Bahvsar
Mayank & Jalpa Shah
Mihir & Reshma Badani
Nirajnaj & Chakshu Shah
Nitin & Neeta Malde
Pankaj & Uma Shah
Prabha Anup Kavita Jaymin Zeena Shah
Pradip & Pratibha - Kailash & Hemanti Shah
Ragesh & Rekha Bhavsar
Rajendra & Harshada Shah
Rakesh & Prafulla Bhavsar
Ramesh & Premila Shah
Ravindra & Suhas Vora
Robin & Hina Shah
Ruchir & Kinjal Shah
Shailesh & Sohini Trivedi
Sheetal & Shweta Daftary
Snehal & Dipali Shah
Snehal & Meena Dalal
Tarun & Jayshree Shah
Urvish & Vandita Shah
Vasant & Ela Shah
Vimal & Jinal Shah
Vinay & Gira Shah
Vishal & Jignya Shah
See 24 Bhav Tirth