Hastinapur Tirth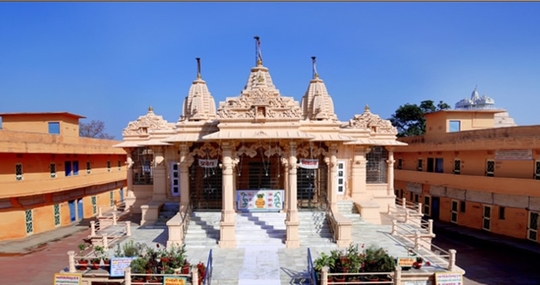 Shri Hastinapur Tirth is located in Hastinapur, a city in Meerut district in the Indian state of Uttar Pradesh. The mulnayaks of Hastinapur Tirth are a three feet tall, golden idol of Bhagawan Shantinath in the Padmasan posture according to Shvetambars and a white colored idol of Shantinath Bhagawan according to Digambars.

The idols of this temple are very ancient. However the temple remained in oblivion due to some un-known reasons until Acharya Vijay Samudra Suri Ji (of Vijay Vallabh Suri Ji Sect) visited this place in 1960's and got the Jirnodhwar of this tirth done. He got a new shikharbadh temple constructed and got the ancients idols placed in them. The moolnayak (main idol) is of Sh. Shantinath Bhagwan with the idols of Sh. Kunthunath Bhagwan and Sh. Arnath Bhagwan on either sides in separate enclosures.

There is also a Paarna-Mandir in the vicinity of the main temple which has a beautiful idol of Sh. Aadinath Bhagwan taking sugarcane juice from Shreyans Kumar. In front of this temple is paarna-hall. Thousands of people from far off places converge here every year on Akshay Tritya (Vaishakh Sudi 3) to break their fasts after completion of their year long varsi-tapp. Besides, a fair is held on the full-moon day of the month of Kartik (Kartik-Poonam) every year. Annual flag-hoisting ceremony (dhwajarohan) is also held on this very day. The place has all the facilities of boarding and lodging.

The original place of varsi-tapp paarna (breaking of fast) of Sh. Aadinath Bhagwan at the hands of Shreyans Kumar is located at a distance of about a kilometer from the main temple and is called Shri Nishiya Ji. This place has got the charan-paduka's (foot-prints) in marble of Sh. Aadinath Bhagwan. Recently a huge 151 feet tall temple called 'Shri Ashtapad Jain Shwetambar Tirth' has also come up in the vicinity. It is a unique multi-crore project and one of its kinds in India. 

The nearest railway station is at Meerut, Uttar Pradesh which is at a distance of 37 Kilometers and Delhi is at a distance of 120 Kilometers from here. The place is easily accessible by Road.

Several ancient idols, coins, and stone inscriptions were found in the Shri Hastinapur Tirth during excavations. All the four Kalyanaks other than nirvana of Bhagawan Shantinath, Kunthunath, and Aranath were celebrated in Hastinapur. Hastinapur was also the place where the samavasaran of Bhagawan Mallinath was constructed. 

As per Jain history, many tirthankars, chakravartis, omniscient souls, ascetics, shravaks and shravikas are associated with the ancient land of Hastinapur. Hastinapur is often referred to in the agams and other Jain works. 




                    
See 24 Bhav Tirth