Jodhpur Tirth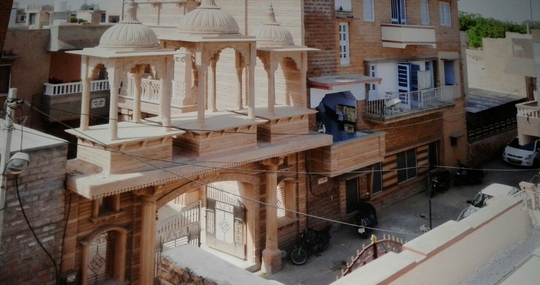 Kunthunath Bhagwan is the Mulnayak. Kunthunath Bhawan was the seventeenth Tirthankara, sixth Chakravarti of the present half time cycle, Avasarpini.

According to Jain beliefs, Kunthunath Bhagwan was born to King Sura (Surya) and Queen Sridevi at Hastinapur in the Ikshvaku dynasty on the fourteenth day of the Vaishakh Krishna month of the Indian calendar.

Kunthu means heap of Jewels. According to the Jain belief, he was born in 27,695,000 BC, Like all other Chakravarti, he also conquered all the lands and went to write his name on the foothills of mountains. Seeing the names of other Chakravartis already there, he saw his ambitions dwarfed. He then renounced his throne and became an ascetic for penance. At an age of 95,000 years he liberated his soul and attained Moksha on Mount Shikharji

Significance of this Tirth: Where, since June 1993, 28 Akhand Jyoti Deepak (27 with pure ghee and one peanut oil) has lit up round the clock. Whose amazing miraculous feature is :
- It is astonishing : in all these lights, yellow sandal rather than black kajal from June 1993 and from November 2008 saffron petals have started appearing in these lights.
- a saffron-colored sandalwood is collected in a flame ignited with peanut oil. 
- Extreme awe : where white sandalwood is collected in Jyoti from June 2009.
 
According to Vedic scriptures, the trees of white sandalwood - forests are available only in Devaloka. In Devaloka, the deity always worships Lord Shiva with white sandalwood. This is the reason that on earth, on Lord Shiva, the shape of "Aum" is inscribed in white color.

According to Jainism, the white sandalwood trees – are found in the forest in the Malyagiri mountain. In this forest, there is the residence of Maa Chakreshwari and in this temple, the very special attachment of Maa Chakreshwari to Kesariya Kunthunath is felt.


                    
Shared Nakaro Murtibharai Winners
| | |
| --- | --- |
| Bharai Name in Patrika | Vinay & Gira Shah |
| Bharai Name in Patrika | Hiren & Ami Vora |
| Carry Bhagwaan in Varghodo | Bharat & Rajuben Shah |
| Carry Bhagwaan in Varghodo | Kartik & Jyotsana Zaveri |
| Bhagwaan Pokhna | Ruchir & Kinjal Shah |
| Bhagwaan Pokhna | Jitendra & Kalpana Shah |
| First 3 Abhishek | Bhadri & Leena Lodaya |
| First 3 Abhishek | Vasant & Ela Shah |
| Tanchno Marvanu | Varshitap Aaradhak Group |
| Tanchno Marvanu | Jayesh & Preeti Chavda |
Shared Nakaro Murtibharai Labharthis
Ankit Shah (Shah Mukesh & Saroj)
Arvind & Nayna Bhandari
Ashok & Rekha Shah
Ashok & Sharda Patel
Bansi & Vidya Shah
Bhadri & Leena Lodaya
Bharat & Alpana Rathod (Panibai Juharmalji Rathod)
Bharat & Rajuben Shah
Bhavesh & Jigna Shah
Chintan & Vaishakhi Shah
Chirag Rena & Sanya Shah
Dhrumal & Helena Shah
Gautam & Panna Shah
Harshad & Bharti Shah
Hiren & Ami Vora
Jatin & Mina Shah
Jayesh & Preeti Chavda
Jaykumar & Nila Shah
Jitendra & Kalpana Shah
Kanti & Kundan Mehta
Karina Ravi Tanuku Kirit & Varsha Shah Parsippany
Kartik & Jyotsana Zaveri
Kirit & Varsha Shah (Parsippany)
Kishore & Bharti for Kapil & Sarika Sanghvi
Kumarpal & Surekha Shah
Mehul & Jigisha Shah
Nayan & Pallavi Sheth
Niranjan & Asha Vadi
Niranjan & Shobhana Shah
Paurav & Heenal Vora
Rahul & Preeti Shah
Rajni & Usha Shah
Ramesh & Premila Shah
Rinesh & Anamika Jain
Ruchir & Kinjal Shah
Shailesh & Sohini Trivedi
Sheetal & Sweta Daftari
Snehal & Dipali Shah
Snehal & Meena Dalal
Sudhir & Nayana Shah
Tamboli Family
Varshitap Aaradhak Group
Vasant & Ela Shah
Veeraj & Ripal Shah
Velji & Champa for Jay & Poorni Bid
Vikram & Rajshree Sheth
Vimal & Jinal Shah
Vinay & Gira Shah
Vinay & Minaxi Shah
Vishal P & Shruti Jhaveri
Yogesh & Aarti Shah
See 24 Bhav Tirth