Khambhat Tirth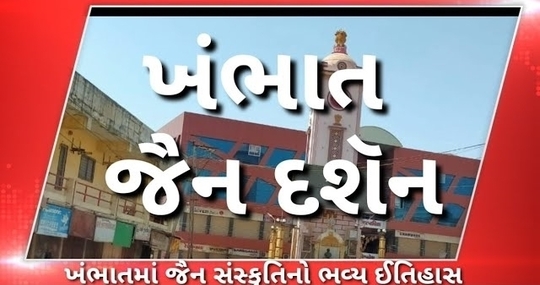 Presiding Deity and Location
Shree Arnath Bhagwan 
Jirala Pada, Khambhat

Antiquity and Salient Features
This tirth was mentioned by Pujya Padmavijaji M.S. while creating a stavan(prayer) in the year 1817.

Doy Kunthu Jin Chitya che re, Chasathi Tiha Arihant
Ar Jinwar ghar ek che re… Tiha Bavis Bhagwant re..

During 1900 Jirala Pada had 11 Jain jinalaya and this Jinalaya was referred as "Ghandi na Dehra". This Jinalaya is special with domes. It is observed that you can rarely have Arnath Bhagwan as a main idol in the Jinalaya.

Jinalaya has two beautiful entrances with detailed carving of stone/wall etc.It also has wooden statues with detailed carvings on them. Inside prayer hall is decorated with beautiful storytelling paintings. The inside prayer hall also has Shree Adeshwar Prabhu and Chandra Prabhu.



                    
Shared Nakaro Murtibharai Winners
| | |
| --- | --- |
| Bharai Name in Patrika | Velji & Champa - Poorni & Jay Bid |
| Bharai Name in Patrika | Rupen & Kashmira Vithalani |
| Carry Bhagwaan in Varghodo | Ashok & Rekha Shah |
| Carry Bhagwaan in Varghodo | Anjani N Solankee |
| Bhagwaan Pokhna | Pradip Beena Setu & Saumil Shah |
| Bhagwaan Pokhna | Bharat & Malini Shah |
| First 3 Abhishek | Jinesh & Ami Shah |
| First 3 Abhishek | Vishal & Shruti (son of Pragnesh & Nayna) Jhaveri |
| Tanchno Marvanu | Shailesh & Sohini Trivedi |
| Tanchno Marvanu | Rajendra & Harshada Shah |
Shared Nakaro Murtibharai Labharthis
Anjani N Solankee
Ankit Shah (Shah Mukesh & Saroj)
Arvind & Nayna Bhandari
Ashok & Rekha Shah
Bhadri & Leena Lodaya
Bharat & Malini Shah
Champakbhai & Sarojben Patel
Chirag & Rena Furia Shah
Dhrumal & Helena Shah
Dinesh & Bharti Shah
Dr. Namrata Shah Shah
Gautam & Panna Shah
Harshad & Aruna Patel
Harshad & Bharti Shah
Hemangi Dilipkumar Shah
Jaswant & Sudha - Simran Suri & Shayna Shah
Jay & Nila Shah
Jayaben Jitendra Shah (Snehal & Rachita Shah)
Jinesh & Ami Shah
Kartik & Jyotsana Zaveri
Kirit & Varsha Shah (Parsippany)
Kishor & Bharti for Mya & Devin Sanghvi
Krunal Chheda
Kunal & Annie - Kishay & Abhaya Jain
Mahaveer Sushila Masum & Jainam Jain
Manan & Binita Shah
Nitin & Neeta Malde
Paresh & Heena Gada
Paurav & Heenal Vora
Prabhashbhai & Shardaben Shah
Pradip Beena Setu & Saumil Shah
Prakash & Nita - Rahul & Alana Shah Shah
Rahul & Preeti Shah
Rajendra & Harshada Shah
Rashmi Anjana Shah
Ruchir & Kinjal Shah
Rupen & Kashmira Vithalani
Saumil & Suchita Shah
Shailesh & Sohini Trivedi
Sheetal & Sweta Daftary
Shirishbhai & Varshaben Patel
Shital & Priti Doshi
Snehal & Dipali Shah
Surendra & Pramila Jain
Tamboli Family
Umesh & Ketal Shah
Velji & Champa - Poorni & Jay Bid
Vimal & Jinal Shah
Vinay & Gira Shah
Virchand & Lilavati Hefa
Vishal & Shruti (son of Pragnesh & Nayna) Jhaveri
See 24 Bhav Tirth