Bhoyani Tirth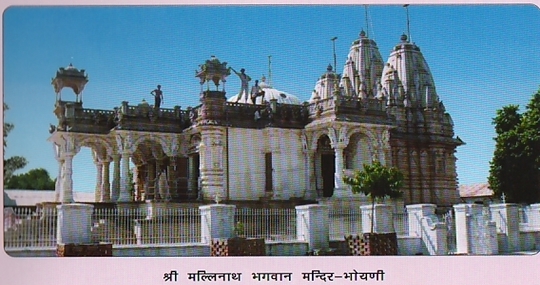 LOCATION: The Bhoyani tirth is located  in the village of Bhoyani at VIRAMGAM District at AHMEDABAD GUJARAT

IDOL Description: at BHOYANI Tirth we have a beautiful pratima ji of Shri MALLINATH Bhagwan. This pratima ji has a shwet varn (white idol) in padmasana seated in lotus posture. The idol was found in the vikram era of 1930. The height of the idol is 104 cm or 41 inches. The idol was established in temple on maghshukla dashmi of vikram samvat 1943 (veer nirvan samvat 2412)

Tirth Description: From plenty of broken art creation and ancient idols recovered from fields and ponds in this area, it is clearly evident that this place is very ancient and at one time it may be having many jain temples.  This temple consists of seven underground basements i.e Garbh-Griha.

History: It is stated that when the well was being dug in the field, a farmer used to hear sounds from somewhere, the exact location of the sound could not be guessed. As soon as, on digging, the idol of present mulnayak appeared, the sound suddenly stopped. The idol is like a female both pretty and attractive. Such a unique and ancient feministic idol of shri Mallinath bhagwan is nowhere to be seen.


                    
See 24 Bhav Tirth