Bharuch Tirth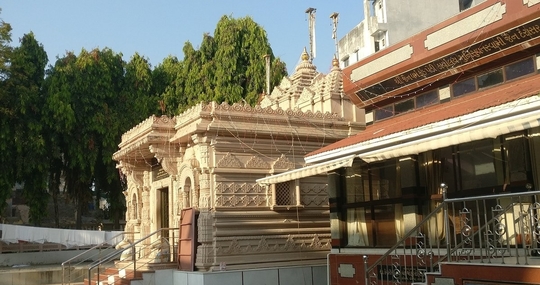 The Munisuvrat Swami Tirth is located on the banks of river Narmada (Shve) in Bharuch, Gujrat, India. He is black colored sitting in the Padmasana (lotus) posture and is 60 meters (20 bows). 

Shri Munisuvrat Swami was born on the tenth day of Krishna Paksh of the month of Vaisakha according to the Hindu calendar and was born in Rajgir. 

The historical details are that eleven and a half lakh years ago, Munisuvrata Swami covered 240 miles by foot to Bharuch in order to give a religious discourse to a horse. According to jain scriptures that this horse was made ready for Ashvamedh Yagna. When it died, it became a God in Heaven in its next birth. This God or heavenly being in commemoration of that obligation built this temple of Lord Munisuvratswami.

Additionally, there was a female bird that was killed by a hunter. The Sadhu preached her the Namokar Mantra and in the next life, she was born as the King's Princess. When the Princess heard the Namokar Mantra, she attained Jnatismaranjnana in which she remembered her past birth. She then went on to renovate the  temple which was known as "Shakunika Vihar. It was then  renovated by other  kings such as Sampriti and Kumarpal. 

Bhagwan Munisuvratswami gave discourses to the horse at this place. Sri Ganadhar Gautamswami who composed a laudatory poem entitled "Jag Chintamani Stotra" in the shrine of Ashtapad (in Kailash, Himalaya) has offered his obeisance to Bhagwan Munisuvratswami sitting in Bharooch i.e. this place. A number of scholars and Acharyas have set their feet on pilgrimages in this place. They include Shashansamrat Acharya Vajrabhutiji, Bappabhattacharya, Kalakacharya, Mallavadisuri, Padaliptasuri, Vijaysensuriji etc., Living here, they have composed many volumes, ceremonially consecrated many temples, installed many idols and carried out various activities in the glorification of Jain religion and general human welfare which is indeed praiseworthy.


                    
See 24 Bhav Tirth