Paydhuni (Mumbai) Tirth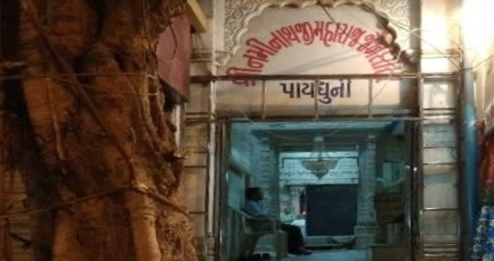 Presiding Deity and Location
Shree Naminath Bhagwan 
Paydhuni, Mumbai

Antiquity and Salient Features

This Jinalaya was built by Sushravak Sheth Shree JashVeerbhai Bhooshar and his wife Diwaliben. This family migrated to Mumbai from Morbi, Gujarat. Pratishtah of Mulnayak Shree Naminath Bhagwan was conducted on Magsar Sudi 11 in Vikram Savat 1948 , English calendar date was 11 December 1891.


This Jinalaya is surrounded by seven other Jinalayas. Many of them are more than 125 years old. One of the oldest Jinalaya "Godiji" is in very close proximity to this Jinalaya. Jinalya was renovated during 2008. This two story building has 25 to 30 various prtaimajies. This also includes precious pratimaji of Shree Munisuvratswami Bhagwan, Shree Vimalathji Bhagwan, Gautamsawmiji, Shree ManiBhadra Veer and Khetral pal.


Amenities For Jain Pilgrims

The jinalay is located in the heart of Paydhuni and has various facilities for dharma aaradhana.

Managed By : 
Nagarsath Tapgacha.



                    
See 24 Bhav Tirth