Girnar Tirth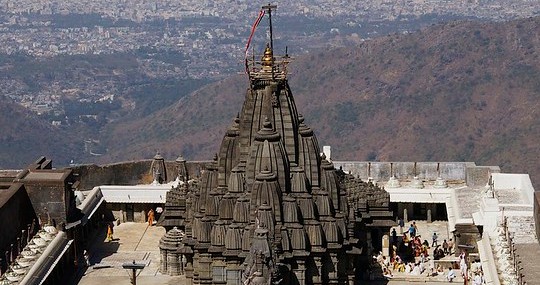 Shri Neminath Bhagwan in black color, seated in a lotus posture, of height 140 Cms. (Swetamber temple) in a shrine located on top of Girnar mountains (near Junagarh)  in Gujrat at an altitude of around 3100 feet.

Sri Neminath Bhagwan who is the 22nd Tirthankar of the present set of 24 Tirthankars had taken Diksha here. He also had attained Keval Gnan and Moksha after great austerities at this place. It is believed that 20 of the 24 Tirthankars of the future will attain their liberation in this place. Girnar is a massive five peaked rock, which was formed by volcanic activity, which is 1,117 meters above sea level.  The first Tunk (Peak) is 4,400 steps tall and it was built by Neminath Bhagavan! This was built in 1128AD. 

The 2nd Tunk has Goddess Ambika on top of it. 

3rd Tunk – Oghad Shikhar, Footprints of Sri Neminath Bhagwan and nearby on one platform Footprints of Shri Sambkumar. 

4th Tunk – Further than Oghad Shikhar on another peak after about 1500 steps, there are footprints of Shri Neminath Bhagwan and on another rock there are footprints of Shri Pradyumnakumar.

5th Tunk – In deep forest on the high point of the mountain where there are Footprints of Sri Neminath Bhagwan and of gandhar Vardutt Muni. From here too, one path goes towards Sahasa van but there is descent of 1500 steps. From Sahasa van, there is a road leading to the foothills Of the mountain.

Bhagwan Neminath had brought his marriage procession to celebrate his marriage with Rajulmati but on hearing wailing cries of animals that were collected for slaughter for the marriage feast and celebrations, he lost all interest in marriage as well as the worldly life and developed intense urge for renunciation. He immediately renounced his kingdom without marriage and started giving up all his wealth and possessions distributing same to people. After taking Diksha, he went into the deep forest of this mountain and commenced practicing deepest meditation and the most intense austerities. Bride Rajul followed Neminaths footsteps and also went to Mount Girnar. After some time people started to join in and started making temples. According to Digambar Traditions, Sri Pradyumnakumar, Sambkumar, Aniruddha and many other saints have attained Moksha at this place.


                    
See 24 Bhav Tirth