Jirawala Tirth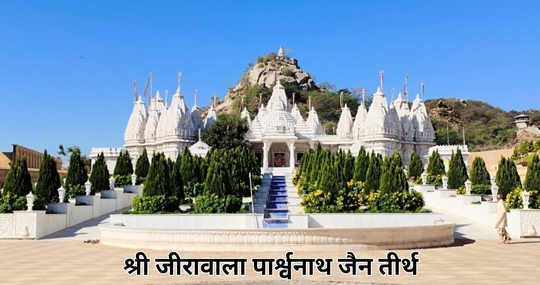 Shri Jirawala Parshvanath Bhagwan is in white color, seated in a lotus posture of height 18 centimeters in a shrine at foothills of Jairaj Mountain outside Jirawala village in the state of Rajasthan. Sheth Shri Amrasa built this holy tirth in Vikram 331. Sheth Jetasa Kemasa made the first renovations in Vikram 326. Sheth Hardasji made the second renovations in Vikram 1033.

The history behind Jirawala is that Sheth Shri Amrasa and Acharya Shri Devsuriji had the same dream of installing an idol of Parshvanath Bhagwan. When Sheth Shri Amrasa saw this dream, he went to Acharya Devsuriji and told him about the dream. That's when Acharya Devsuri told him that he had the same dream. In their dream they saw an idol of Parshvanath Bhagwan in a cave outside the city of Jirawala. After digging, they found the idol  on the very spot near the foothills  According to the direction of the Guardian Deity a temple was then erected and in Vikram year 331, it was ceremonially sanctified at the hands of Acharya Sri Devsuriji.

In this temple in various small single room shrines the idols of Sri Parshvanath Bhagwan in 108 different names have been installed. In the whole of India, this is the only Ancient shrine where 108 idols of Sri Parshvanath Bhagwan are found in different names.

Several miracles have happened at this tirth. For example, fifty robbers rushed into the temple. Each of them seized as many articles and Rupees as was possible and tying the same into bundle placed it on the hand and started to walk away. Suddenly something strange was experienced and there was sheer darkness before the eyes of all of them. None of them could find their way out and every attempt they made, their heads were dashed against the walls which resulted in heavy and profuse bleeding. Soon all of them fell unconscious and in the morning, they were caught together with all that they had tied into bundles to carry away.  

The nearby railway station of Abu road is 42Kms away. Nearby large town of Revdar is 8 Kms away which is on Abu-Mandar road.




                    
See 24 Bhav Tirth